We may earn money or products from the companies mentioned in this post.
My word for this year makes me quiver with excitement.
And foreboding.
It is simple. It is only four letters long. It is profound. It is beautiful. It is terrifying.
It is mine, given by the God who loves me and knows my name.
The word He has laid on my heart for 2014 is
REAP
.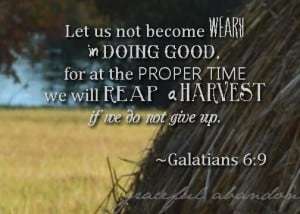 This verse means more to me now that I am a mother to six very unique children than it ever did before. The temptation as a mom to give in to weariness can be overwhelming. The temptation to let things slide, to take the path of least resistance, to just let it go is always there. But it is in our consistency and diligence that are saturated in love and selfless giving that we sow seeds that reap a harvest of blessing in the lives of our children. I feel like God is prompting me to Keep On and to not only not give up, but to not even be weary in my consistency. What a challenge! But one that comes with a beautifully precious promise.
I did a word study on REAP and found a myriad of Scripture that uses the word, literally and figuratively. We serve the Lord of the Harvest, so this should not have surprised me as much as it did. I want to share with you the verses that are most precious to me and I enter this new season with the promise of REAPING ahead of me.
Hosea 10:12 spoke hope to my spirit.
Sow
righteousness
for yourselves,
reap the fruit of unfailing love
,
and break up your unplowed ground;
for it is time to seek the

Lord

,
until he comes
and showers his righteousness on you.
Isn't it absolutely breathtaking in its beauty? We will reap the fruit of unfailing love. God will till the soil of our hearts that are as yet unprepared for His work. And as we seek His face, not only will we find Him, but we will be showered with His righteousness. Truly, this is the promise of an ardent Lover for His Bride.
Psalm 126:5 is also a sweet promise, and another one I have held dear during this journey of motherhood. It has been more true this past year of my life than any other. I am so thankful for promises that are faithful. And I know that this coming year will see its truth shining yet again.
will
reap with songs of joy
.
I feel, too, the challenge of Leviticus 19:9. Oh, what a challenge! But also a necessity for the Kingdom of our Beloved to grow.
When you
reap
the harvest of your land,
do not reap to the very edges of your field
or gather the gleanings of your harvest.
I am not to get weary in the pursuits God has laid before me because a harvest will come. But likewise, I cannot give so much of myself that there is a barren field where my life should be. God wants to fill me; I must remain fruitful for the work He has called me to. His plans are bigger, His scope broader, and His provision infinite.
And then was the promise in Genesis 26:12 — oh, so exciting!
Isaac planted crops in that land
and the same year
reaped a
hundredfold
,
because the Lord blessed him.

And I will leave you with Revelation 14:15 which makes my spirit sing and my body hum with anticipation. The time is coming. Maranatha!
Then another angel came out of the temple
and called in a loud voice
to him who was sitting on the cloud,
"
Take your sickle
and reap, because the time to reap has come,
for the harvest
of the earth is ripe
."
What is your word for the year?