Welcome; I'm so glad you're here!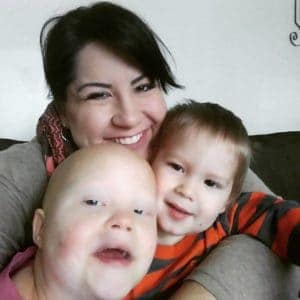 My name is Lisa Yvonne. I'm married to my college bestie and we have a houseful of children. Life is pretty awesome these days, but it wasn't always.
Years ago, back when we had just two kids, I sat down in our family room and bawled my eyes out.
I had no clue what I was doing. I didn't know how to clean our home, menu plan, stay on a budget, or what to do with our incredibly independent toddlers. I begged God to send me a mentor to teach me because I couldn't stand living like that.
That was the day the real fun began. I started to pray fervently for God to teach me what I needed to know. I read books and blogs and picked the brains of random strangers at the market who seemed to have it all together (or at least better than me). And I learned a lot.
But somewhere along the way, I got overwhelmed and bogged down by the Christian culture's definition of Biblical Womanhood. I lost the heart of the issue in the maze of "should's" and "must's" and "ought to's". The legalism broke my heart, destroyed my spirit, and shattered my soul. The overwhelm was crushing.
What is Graceful Abandon?
And that's how this site, Graceful Abandon, was born. My heart is for you, sweet sister.
This is a place of encouragement for the woman who has felt the burden of overwhelm and the shackles of legalism and doesn't want to live with them any longer. 
This is a place where we abandon the doubts, fears, and failures that come from trying to live up to a man-made definition of godly womanhood and instead abandon ourselves to grace.
You'll find tips and tricks to make the journey of being a wife, mom, and/or homemaker easier, as well as encouragement for those inevitable moments that you need it. We'll talk about managing our homes, juggling our budgets, homeschooling, and more because this is what makes up life. This is where we'll share from the heart, as well as take practical steps toward making life work.
This is a place where you're going learn to find joy in your purpose while you live your day to day life.
It's time to stop simply living between errands and to-do lists and feeling pressured to fit a mold you want to shatter. I'm sick of it, and I bet you are, too.
 So let's put on the brakes.
It's time to stop living this way.
I don't think that this is how God intended for us to live our lives.  The more I look at the life I'm living and hold it up against the Word of God, the more I'm convinced that there is more.  Why? Grab a cup of coffee and I'll tell you.
I want to intentionally yet leisurely commune not only with God, but with my husband, children, friends, neighbors, and even random strangers.
I want to find freedom in His grace, instead of the rules of religion.  I want to put all the pieces of my life into balance — everything submitted to God, and everything a delight because we're doing it all in His grace.
And I want you to be able to do it, too!
God Himself beckons us to Him to share in unhurried and sweet relationship with Him:
"Are you tired? Worn out? Burned out on religion? Come to me. Get away with me and you'll recover your life. I'll show you how to take a real rest. Walk with me and work with me—watch how I do it. Learn the unforced rhythms of grace. I won't lay anything heavy or ill-fitting on you. Keep company with me and you'll learn to live freely and lightly." ~Matthew 11:28-30, The Message
I'm on this journey of living every day with joy-filled purpose. I want us to answer the call of the Savior to learn the unforced rhythms of grace and redeem the time.
Let's share the deep joy of savoring a moment.
Let's take a moment to inhale deeply and appreciate the simple gift of inspiration.
Let's walk through the park and cherish the sounds of laughter that is not our own.
We can sit down to tea and recognize the priceless treasure that is time.  Let's discover together what it means to live with significance and intention, freedom and balance, doing the daily and mundane tasks that make up life with joy.
It's time to be deliberate and live profoundly even while we wash dishes, clean up messes, and balance the checkbook.  It's time to live under grace, embracing its unforced rhythms even while moving forward with deliberation.  It's time for a life of graceful abandon!
Connect With Me:
SaveSave
SaveSave
SaveSave