We may earn money or products from the companies mentioned in this post.
The other day I wanted a nice, simple meal that would fill us all up, but I also wanted something that would be very nourishing for us, since we were battling colds. The evening was brisk and called for a delectable, savory supper so I began to experiment.
The result was a nice big pot of quinoa lentil chili for the whole family that was absolutely delicious! It is good with some lean, rinsed beef in there, but it will also work as a meatless meal once or twice a week with some added beans for savory thickness. The kids loved it so much that they gave it a 4.5 star rating and asked me to make it again.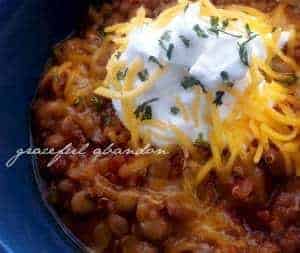 Look at all that scrumptiousness! This was definitely full of flavor.
I cooked the quinoa and lentils in bone broth that I had de-fatted by leaving in the fridge and pulling off the fat once it hardened on top; not only does this add an amazing depth of flavor, but it is intensely nourishing and healing for the body.
Then the tomatoes and spices went in and simmered together until the house smelled so good that the kids were swarming the stove and offering to taste test it.
That's usually my first clue that I have a culinary success on my hands!
Delicious, Healthy, and Healing?
One of the things I have learned over the last several years as I try to own our health is that spices are my friend not only in the kitchen, but in healing. Herbs have been used for centuries by wise women, healers, and eventually even in the medical profession before we had more streamlined medication available.
I don't know why it took me several years of using herbs for health and healing to realized that I could use them in our daily diet to jazz up our food, in addition to alternative medicine.
Now I focus on making foods that aren't just delicious, but also healthy and healing. Sometimes I go so far as to pick a recipe (or create a new one) based on our health needs at the time.
I ate this as part of my Trim Healthy Mama eating plan in an E setting, but it is also able to be used in a Paleo diet. It is nut free, sugar free, low in fat, and an overall good choice for those with an eye on health in addition to flavor. As a bonus, it's a pretty frugal meal! Nutrient dense, filling, and easy on the pocket book makes it a win!
Why Is This So Good For Me?
Bone Broth: healing and nourishing to the gut, full of gelatin and minerals that the body needs
Quinoa: naturally gluten free, loaded with essential amino acids, calcium, magnesium, B-vitamins, protein, fiber, and more
Lentils: loaded with fiber, folate, iron, and protein
Tomatoes: full of Vitamins C, E, B6, folic acid, lycopene, and antioxidants
Turmeric: anti-inflammatory, antioxidant, healing to the gut, reduces heartburn, protects the brain
Black Pepper: aids in the digestion and absorption of curcumin, the compound in turmeric that does so much for the body, facilitates digestion, antibacterial
Chili Powder: high in vitamins A&C, as well as many minerals
Paprika: aids in digestion, anti-inflammatory, and a great source of B6 which is fabulous for skin and hair
Oregano: loaded with antioxidants and is also anti-inflammatory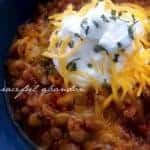 Quinoa Lentil Chili
A delicious, healthy, healing chili that can be served as either a vegetarian delight or a meat-filled treat.
Ingredients
1/2

TB

olive oil

3

cloves

minced garlic

1/4

cup

diced onion

1 1/2

cups

soaked lentils**

1

cup

rinsed quinoa (soaking optional0

28

oz

crushed tomatoes

use organic, if desired

1/2-1

TB

chili powder

depending on desired heat

optional 1 tsp cayenne

1/2

TB

turmeric

1

TB

smoked paprika

1

tsp

fresh ground pepper

1/2

tsp

salt

1/2

TB

oregano

or 1 TB fresh from the garden

8

cups

broth or water or mix of both

I use bone broth, but vegetable is also a healthy option

1

lb

lean

rinsed ground beef OR 2 cups pre-cooked black or kidney beans)
Instructions
1. Heat your soup pot with olive oil in bottom

2. Once oil is hot, add minced garlic and diced onion and stir until fragrant (don't burn!)

3. Add in 1 cup of quinoa and toast gently (takes 2-3 minutes), stirring often

4. Pour in 28 oz of crushed tomatoes

5. Add in lentils

6. Add in spices and stir

7. Add in 8 cups liquid (broth, water, or a mixture of both)

8. Add in ground beef or beans

9. Bring to a boil, then reduce to a simmer for 45 minutes. If you like your chili not as thick, feel free to add more liquid after 30 minutes
Recipe Notes
We topped this with a dollop of Greek yogurt (sour cream works, too!), some parsley, and just the tiniest bit of shredded cheese. Delish! I also tossed some jalapenos in mine, but no one else around here enjoys it that way. The possibilities are endless -- make it your own!
**I soak my lentils, which does reduce my cooking time by a little bit. If you don't pre-soak, add 1 cup of water and cook for a little longer. To soak them, I cover them in water and add 2 TB Apple Cider Vinegar and let sit at least 6 hours. This aids in my body's ability to digest them, which is necessary for me at this stage in my health. Even if it isn't essential, it is still beneficial.
SaveSave