Declutter Your Home Checklist: 25 Things To Toss Today (that you won't miss tomorrow!) & A Free PDF
We may earn money from the products/companies mentioned in this post. As an Amazon Associate I earn from qualifying purchases. For more information, read our Terms & Disclosures.
Use this declutter your home checklist to start your journey to a space you'll love right away. Here are 25 items you can remove from your home today.
It's time to live in your space with joy-filled purpose instead of being overwhelmed by it. Don't miss out on the free room-by-room declutter your home checklist at the end!
You've reached the point where you're ready to declutter your home. The only problem is you don't know where to start.
Getting started is always the hardest part.
Thankfully, there are so many things waiting to be purged from your home that you can say goodbye to today and not even miss tomorrow!
Whether it's old magazines or glassware, you can get started right now. Grab a box (or two!) and let's jump in.
Declutter Your Home Checklist: 25 Things To Toss Today That You Won't Miss Tomorrow
Clutter is anything that keeps you from living your purpose with joy by stealing your time, your peace, or your passion.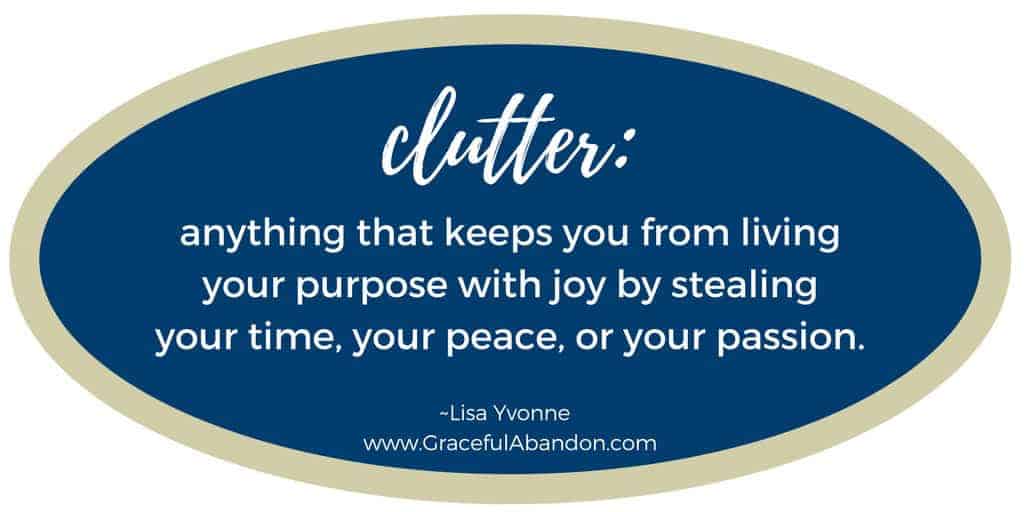 Anything that robs you of those things has no place in your life; it's seriously time to start getting rid of the clutter, my friend!
Related: The Most Important Thing You Need To Know When Getting Rid of Clutter
Let it go! (sorry if you're a mom of little ones and now have a certain song running through your head…although it's the perfect soundtrack for what you're about to do!)
You're going to feel so awesome about your space (and yourself!) when you go through this Declutter Your Home Checklist that you might even want to keep going.
That's awesome — DO IT.
Give yourself permission to say goodbye to items that don't add to your purpose. After all, you don't need "stuff" cluttering up your life anymore. You're ready to move on to better things.
Let's get to it. Here's 25 things you can get rid of today and not miss tomorrow (plus a bonus Declutter Your Home Checklist: 101 Items You Can Let Go Of This Week printable guide for you, too!).
Scratched Up Pots and Pans
Scratched non-stick pans are not only unsightly but dangerous. The coating can come off in your food. Toss these pots and pans from your collection.
Storage Containers With Missing Lids
Do you have containers that you can never find a lid for or lids with no bottoms? Toss them. All they're doing is taking up much-needed space.
Anything That's Expired
Go through your pantry and toss anything that's expired. You also want to check your fridge and freezer for any expired products.
Movies You No Longer Watch
If you have a huge movie collection, go through it and purge anything you no longer watch. If you watch most of your movies on Netflix or some other streaming service, be ruthless!
CDs You Can Listen to Online
Long gone are the days when our music collection needed to take up a large portion of our home. You can listen to lots of music for free through apps these days, although my personal favorite is through Amazon Music (which is free with my Prime membership). You can try it for FREE by clicking HERE.
Books You'll Never Read Again
Most books are good for one read and that's it. If you're holding onto books you never plan to read again, purge them from your reading pile. If you've got books to hold on to, put them away neatly. When you run out space, go through them again and see if you can get rid of more.
Magazines
You don't have to keep an entire magazine for one article or recipe. Go through and clip out what you want and recycle the rest of the magazine. This clears a lot of clutter.
Clothing That No Longer Fits
"Someday" may never come. Stop holding onto clothing you're hoping to fit into one day. Purge your closet and get rid of clothes that are too big or too small.
Worn Out Shoes
Shoes that are a bit worn are great for yard work, but shoes with holes serve no purpose. Toss them.
Old Makeup
Old makeup can actually be dangerous, especially eye makeup. Go through your collection and toss everything that's been open for longer than it should have been.
Free Samples
Do you have a large stash of samples you've gotten in the mail or at events? Donate them. Chances are you're never going to use them if you haven't already.
Uni-Taskers
No one has room for those large items that serve only one purpose, especially if you've got a multi-feature item that can take its place. For example, do you really need your old rice cooker if you've got an Instant Pot? If you're only using these items around once a year, purge them.
And pssst…if you don't have an Instant Pot, get one! They're AH-MAZING! Plus, then you can declutter your crock pot, yogurt maker, rice cooker, and maybe a few other things. I totally adore mine.
Plastic Shopping Bags
Too many grocery bags in your home? Take them to a grocery store that accepts them for recycling. After all, how many old Walmart sacks do you need?
Chipped Dishes & Bakeware
You're not going to use it, so why do you have it? On top of that, bacteria can set up in chipped dishes, mugs, etc. Toss anything that's chipped or cracked or otherwise damaged.
Duplicate Tools
You can only use one hammer at a time. Why do you have 4? Or what about the 17 screwdrivers that have accumulated in your toolbox? Yup, get rid of at least 12 of them!
Old Electronics
Do you really still need that VCR? No, most likely you don't. You also don't need any of those other outdated electronics that are sitting in a pile, unused. You can donate or recycle all of them.
Paperwork
There is so much paperwork in your home that can be purged. Newspapers, sales papers, catalogs, old billing statements, etc. Make sure to shred any documents with sensitive information.
Glassware
Are you the type that can't resist a cute mug or water bottle? Purge your collection – or at least part of it.
Old Décor
Our tastes change and that means we end up with a lot of décor we're tired of. Purge the pieces you no longer want or can't be reworked to suit your current taste. It's okay if it was a gift; if it's not being enjoyed any longer, you're totally okay to part with it.
Promotional Items
Free magnets, hats, plastic cups, key chains, etc. We all have these sorts of things cluttering up our home. Let it go! (there's that song again…)
Take Out Menus
You can usually find all this information online. Drop these in the recycling bin. Or use them to start a fire in your fire pit and snuggle up for an awesome at-home date night with your husband.
Board Games (and incomplete decks of cards)
Do you have board games your family no longer plays? Donate them. Do you have ones with missing pieces? Trash them. Decks of cards coming up short? No one will have fun trying to win a game with those!
Phone Books
These days, everything is online. Recycle those clunky books and make more space for what you will use.
Manuals You No Longer Need
You don't need a manual to a TV you no longer own. Toss it.
Also, if you still have the item the manual is for, you can look and see if the manual is online. Chances are that it is and you can declutter the manual anyhow.
Old Linens
No one wants to sleep on sheets with holes or nasty stains, let alone use towels that sport the same. As long as you have others, go ahead and toss any worn out linens.
Isn't It Amazing What You Can Declutter From Your Home?
Be sure to sign up for the Declutter Your Home Checklist: 100 things to declutter from your home this week below!