Bible Verses About Hope: An Anxious Girl's Toolkit
We may earn money from the products/companies mentioned in this post. As an Amazon Associate I earn from qualifying purchases. For more information, read our Terms & Disclosures.
These encouraging Bible verses about hope provide an anchor for Christian women looking to combat anxiety with their faith.
Heart pounding, sweaty hands and butterflies… the all too well-known feelings of anxiety.
We can easily be so fearful that it is difficult to think straight.
So how do we remember God's promises in the midst of our daily worries? We always turn to the Word…God hasn't left you with a problem and no solution, dear one — He loves you too much!
With God, there is always hope…confident hope!
Now faith is confidence in what we hope for and assurance about what we do not see.

Hebrews 11:1, NIV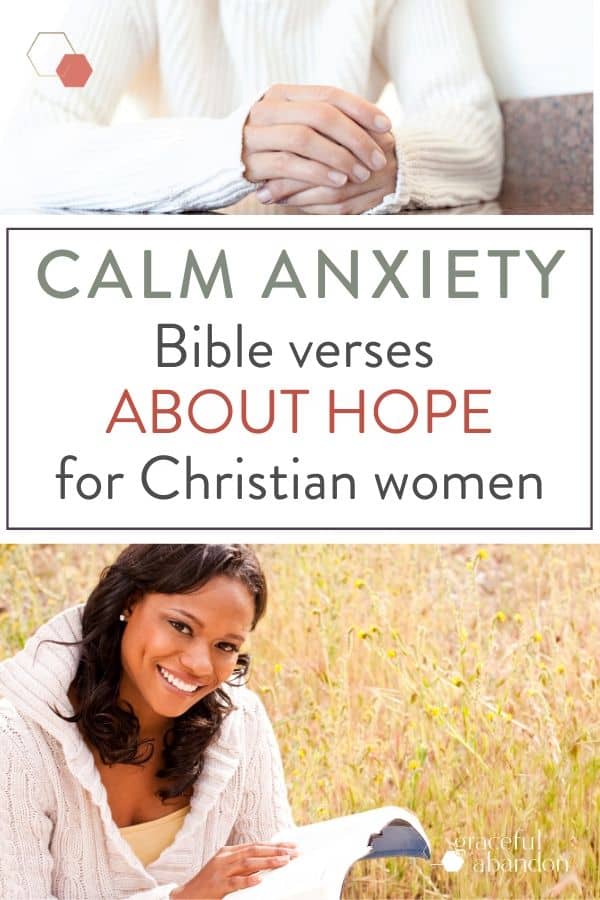 The Diagnosis
Growing up, there was a personal struggle with anxiety but I didn't realize it was abnormal. Until, eventually, I had my first panic attack and I couldn't sit still or sleep.
After weeks of dealing with constant worry, I saw a doctor and learned what anxiety was.
After you hear you have anxiety, things make a lot more sense. You start to understand how others can be so bold, while you're most comfortable being restrained. You learn that your heart pounding, throughout the day, isn't how others are living life.
Turning To God With Anxiety
When you're nervous, all these scenarios run through your mind. You're worried about finances, health, safety, etc… Worry becomes this common theme that can easily run your life.
But guess what? God knew you before He formed you. So, He made Bible verses to respond to your fears.
Bible Verses About Hope In Hard Times
One way to combat anxiety is to turn to the Word of God and see the hope in hard times that He offers…for any and every situation.
In addition to the simple, practical tools to calm down you might already try when anxiety hits, using Scripture to calm your heart and soul is incredibly powerful.
Related: 22 Verses on Fear For Christian Women
Bible Verses on Hope for Finances
And my God will supply every need of yours according to his riches in glory in Christ Jesus.

Philippians 4:19
As Paul encourages the Philippians, it encourages us as well!
God is always supplying for our needs. When we are worried about providing for our family, it isn't difficult to lose sight of how our God controls it all. We can pray, have faith and let go of the fear. He will make a way!
Bible Verses for Hope In Troubling Times
Is anyone among you suffering? Let him pray. Is anyone cheerful? Let him sing praise.

James 5:13
The book of James emphasizes how a Christian should live and he shares how important prayer is in any situation. We can be sure that the power of prayer can overcome our current circumstances!
God created the earth… He can take care of this problem.
Bible Verses on Hope And Healing
Therefore, confess your sins to one another and pray for one another, that you may be healed. The prayer of a righteous person has great power as it is working.

James 5:16
This verse was in my Bible study this week and it is exciting! It is really amazing that we can call on the elders and ask to be prayed over to receive healing.
With faith, God has given us great blessings and miracles.
Related: Self-Care For The Mom With An Anxious Child
Bible Verses for Hope in a Difficult Relationship
Likewise, wives, be subject to your own husbands, so that even if some do not obey the word, they may be won without a word by the conduct of their wives, when they see your respectful and pure conduct.

1 Peter 3:1-2
Maybe you're worried about your marriage or about a difficult relationship with a family member; either way these verses reassure us that we can bless those relationships!
God can take our work and respect, and change their heart.
So work heartily and work for God!
Bible Verses About Hope And Strength for Tomorrow
Therefore do not be anxious about tomorrow, for tomorrow will be anxious for itself. Sufficient for the day is its own trouble.

Matthew 6:34
My mom used to tell me this verse when I was in college. It really puts things into perspective!
On earth, we focus our energy on this world and get wrapped up in our daily circumstances. But, this verse shifts the focus.
It puts the Truth back in our day and gives us an eternal focus.
Trying Something New: Hope For The Future
Therefore, if anyone is in Christ, he is a new creation. The old has passed away; behold, the new has come.

2 Corinthians 5:17
For I know the plans I have for you, declares the Lord, plans for welfare and not for evil, to give you a future and a hope.

Jeremiah 29:11
I am an introvert. In college, I remember being very lonely and overwhelmed. One day on my way to class, I could feel Jesus walking next to me and it felt so peaceful.
I didn't want to go anywhere. I just wanted to stay in that moment. I had a friend in Jesus.
Maybe you're an introvert and meeting new people is stressful or maybe you're applying for a new job.
Whatever new thing you're facing, remember that God has made you a new creation too! He is always by your side. and your future is bright because you are new in Him.
Bible Verses on Hope for Work
Now there are varieties of gifts, but the same Spirit; and there are varieties of service, but the same Lord; and there are varieties of activities, but it is the same God who empowers them all in everyone. To each is given the manifestation of the Spirit for the common good.

1 Corinthians 12:4-7
How amazing is it that God has equipped you for the work set before you?!
When dealing with anxiety, sometimes it doesn't feel as though you have what it takes to perform. But God says, He made YOU for THIS!
Bible Verses on Hope for Safety
But the Lord is faithful. He will establish you and guard you against the evil one.

2 Thessalonians 3:3
I remember worrying about what would happen to me or my family…a lot. I couldn't seem to help it.
Maybe you too are worried about the evil one destroying your life. Here, God reminds us that He is faithful and guarding us against evil.
With hope in Jesus, evil will not have a hold on us!
Bible Verses on Hope for Eternal Life
Truly, truly, I say to you, whoever hears my word and believes him who sent me has eternal life. He does not come into judgment, but has passed from death to life.

John 5:24
Have you ever noticed how almost everyone worries about dying, at some point in their life? We worry about what death is like and where we will spend an eternity.
Jesus says if we hear His Word and believe in God who sent Him that we will have eternal life.
Satan wants to sneak into our thoughts and take that Truth from us, but Jesus says it is as simple as that. Evil one be gone.
Trading Anxiety For Hope As A Christian Woman
So how do you trade anxiety for hope and trust God? The Holy Spirit is ready to help you!
May the God of hope fill you with all joy and peace in believing, so that by the power of the Holy Spirit you may abound in hope.

Romans 15:13
Here are some simple steps you can take right now to step into the hope promised to Christians in the Bible:
Read the Word. The verses above are a starting point, but studying what God says about hope and His constant offer of perfect peace will literally change your life.
Music. Did you know that music calms the soul? Check out this worship playlist for when you're anxious and embrace the hope in God that is foundational through it all.
Journaling. Writing is an excellent way to get all of the nervous thoughts out and to consciously turn your heart towards hope. Grab a

free Anxiety Printable Journal here

and start combating your fears with the hope of God's Word today!
May the Word of the Lord be louder than your worry, my sweet friend!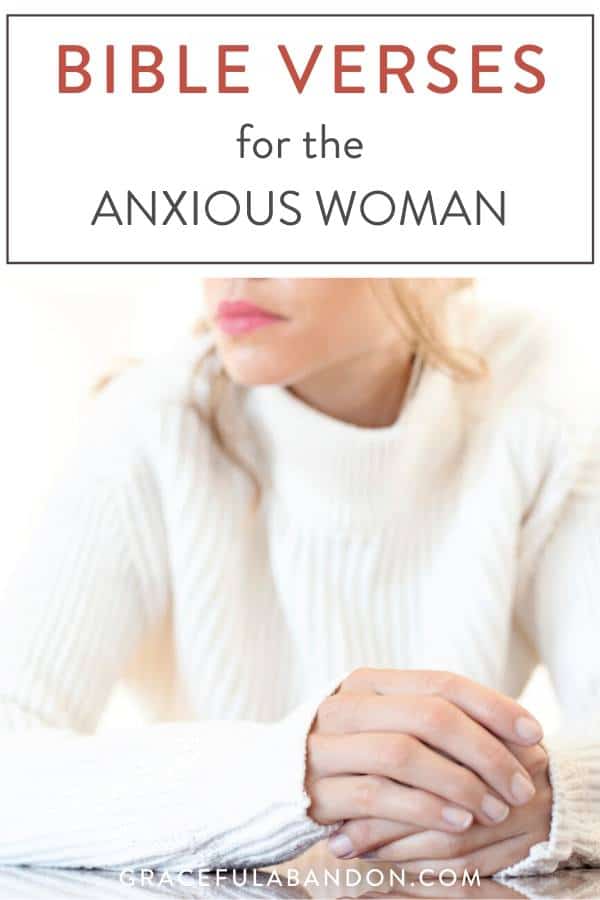 Jenna is a wife and mother of 2 in South Dakota. She writes at Peaches & Prayer, where she serves up encouragement for women in their walk with Christ.
Jenna enjoys being creative and making free printables. Connect with her on Facebook, Instagram, Twitter, & Pinterest