15+ Of The Best Worship Songs For Calming Anxiety & Stress In Christians
We may earn money from the products/companies mentioned in this post. As an Amazon Associate I earn from qualifying purchases. For more information, read our Terms & Disclosures.
This list of the best worship songs for stress and anxiety relief in Christians gives you songs to help overcome when you are anxious and overwhelmed. Start your playlist of calming Christian music with these songs!
Have you ever noticed how a good song can get your feet dancing and make your mood brighter? Or how the right song is the perfect soundtrack for wallowing?
That's why choosing the right playlist for anxiety relief is so important. Your solution: calming Christian music.
God created music and made it so that we resonate with it on a very deep, soulful level. Have you ever tried a playlist as music therapy for stress and anxiety relief?
The very first king of Israel, Saul, is a beautiful example of music therapy to control severe anxiety in Scripture.
The Bible tells us Saul was afflicted with a mood disorder of some sort and young David's musical ministry on the lyre was what calmed him and brought him relief (1 Samuel 16:23).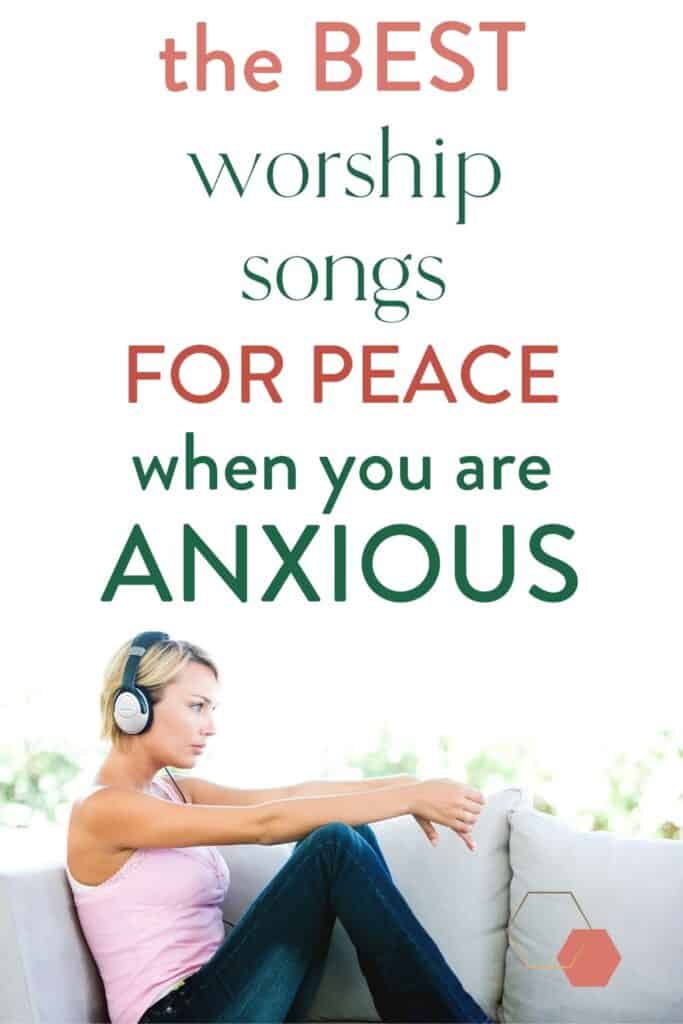 Anxiety & How Music Affects The Brain
Did you know that "anxiety disorders are the most common mental illness in the U.S., affecting 40 million adults in the United States age 18 and older, or 18.1% of the population every year"? (1)
And music can make a difference.
According to Rick Nauert, PhD, music soothes anxiety and reduces pain symptoms (2). In her article on how to create a stress reducing playlist, board-certified music therapist and licensed clinical professional counselor Rook shares:
…it impacts our brains. When [tempo and volume] work in combination, we see dramatic changes in physiology and behavior. The effects of music have been documented by scientists for years, and despite its mysteries, one thing is certain: listening to music activates our entire brains, creating the potential for us to use music to improve the way we think, behave, and feel. (3)
How To Build The Perfect Anxiety Relieving Playlist
Did you know there's an art to building a good playlist for when you're feeling stressed? Here's a few tips for the best Christian playlist for stress and anxiety relief.
Choose Familiar Songs That Resonate
When you're stressed or overwhelmed, the last thing you're in the mood for is some loud, upbeat music. While on a good day it might get your feet moving, when you're feeling the stress it can make it even worse. Start with some songs that speak to your heart…gently.
Move Into Songs That Will Help Bring You To A Place Of Peace
God has a promise for you, dear one:
You keep him in perfect peace
whose mind is stayed on you,
because he trusts in you.
~Isaiah 26:3, NLT
So next, play some songs that remind who God is and His role in your life. Stay your mind on Him and you'll have the peace of God flooding your heart and mind.
End With Songs That Lift Your Mood & Move You Forward
Finish up with songs that are uplifting for you. Leave yourself feeling refreshed and encouraged, but still focused on God and who He is…and who He says you are.
The Best Relief For Stress & Anxiety
While music is a tremendous tool, this playlist is effective for stress and anxiety relief because it points you toward Jesus.
Dear one, it is my prayer that if you've found this list, you are also looking to crawl into your heavenly Father's lap and let Him speak tenderly to you.
I encourage you to sing to God through your anxiety; let Him lift your heart as you rest in Him and trust Him with your fears, doubts, and overwhelm. This playlist is a great start, but be sure to add your own favorite worship songs for when you are anxious as well (and share them in the comments!).
The Lord is our only hope, and trusting in Him, resting in Him, relying on Him…that is the best relief for stress and anxiety. As you fight through this struggle, I pray you find encouragement in the Bible and in God.
Don't forget to check out this list of the best worship songs to start your morning, too!
—–> What songs would you add?
References: