8 Practical Ways for Christians to Calm Anxiety Now
We may earn money from the products/companies mentioned in this post. As an Amazon Associate I earn from qualifying purchases. For more information, read our Terms & Disclosures.
It is estimated that about 1 in 5 of us in the Western World suffer from serious anxiety.
Which is an overwhelming number, when you think about it. Wow.

When you are gripped with a racing mind and that sinking "what-do-I-do-now" feeling that prevents you from functioning to your peak efficiency, what do you do?
I want to make a disclaimer here that this is not medical advice. There are some serious medical conditions related to anxiety which may require medication or other types of medical intervention.

This article does not replace advice from your physician for a medical condition. Here I'm sharing simple solutions that have helped me that you may also enjoy trying.
1. Recite Scriptures that Remind You About God's Love and Provision
I have three scriptures that really speak to me about God's love for me and His provision.
When I am in the throes of a bad bout of severe worry or anxiety, I get alone in my prayer room. Then I speak relevant scriptures over and over again to myself until they start to drown out my own anxious thoughts. This always works for me.
When I say these scriptures, I say them about myself (in the first person). Here are mine, but for you, there may be others that really resonate with your spirit.
I type them out here the way I say them–in the first person. Having them in the first person makes the truth of God's word very personal for me.
Related: The Secret To Perfect Peace In Any Storm
A) "God loves me" scripture-
"The LORD MY God is in MY midst, a victorious warrior. He will exult over ME with joy, He quiets ME with His love, He rejoices over ME with shouts of joy." (Zephaniah 3:17)
B) A "God is good" scripture-
"The LORD is good to ME; He has compassion on all ME who He has made" (Psalm 145:9)
C) A "God is working all things out for my good" scripture-
"I know that in all things God works for the good of ME who loves Him since I have been called according to His purpose". (Romans 8:28).
2. Mindful Breathing
So, when I am on a very busy work day or dealing with a stressful problem on the technology side of this blog, I find this breathing technique works quickly to bring me back to peace quickly.
I inhale slowly for 5 counts through my nose, then hold the breath for 3 counts, and then slowly let the breath out of my mouth for 5 counts. I repeat that for 3 minutes and intentionally still my thoughts.
This calms your body which makes it easier to calm your emotions and your mind.
3. Get Physical
Even a short walk or a stationary bike ride will help to dissipate the adrenaline flooding your system when anxiety hits.
If you have more than a few minutes, then a session of very high-intensity exercise is even better for getting rid of too much adrenaline.
4. Music/Dance
Uplifting music with a positive message is an easy way to help you get out of the loop of anxiety thoughts in your head.
If you have a song that really makes you want to get up and dance, play that and dance (if you are somewhere you won't draw a crowd 🙂

There are also this collection of the best worship songs to start your morning and worship songs to calm anxiety.
5. Pet Your Pet
There is a good reason domestic animals are being used as therapy for anxiety sufferers. They even have therapy animals on site now in many universities and colleges at exam time to help students calm down.
Animals have a proven comforting effect. If you don't have a pet of your own, see if a neighbor will let you play with their dog or cat.
6. Go Outside
For me, my ultimate zen spot is beside a beautiful ocean. When I lived and volunteered in the small island of St. Vincent and the Grenadines in the Eastern Caribbean, I ended every single day with a drive to the beach to watch the sunset.
Something about the vastness of the ocean and its immense beauty made all my issues seem minuscule.
There is something about the way nature just follows its rhythms regardless of anything going on in your world which comforts. The intricacy and beauty of God's creation also make your problems seem much smaller.
7. Hug & Be Hugged
Hugs fill our emotional love banks, true, but they can also calm you physically. Hug your hubby or your kids and enjoy their hug right back!
8. Read For 6 Minutes
Did you know that reading for 6 minutes can reduce anxiety by as much as 68%? (source)
Don't know what to read? Check out these books for Christian women. And if you're looking for solid fiction to read that will inspire, entertain, and even challenge you to grow in a beautiful way? This is my favorite series.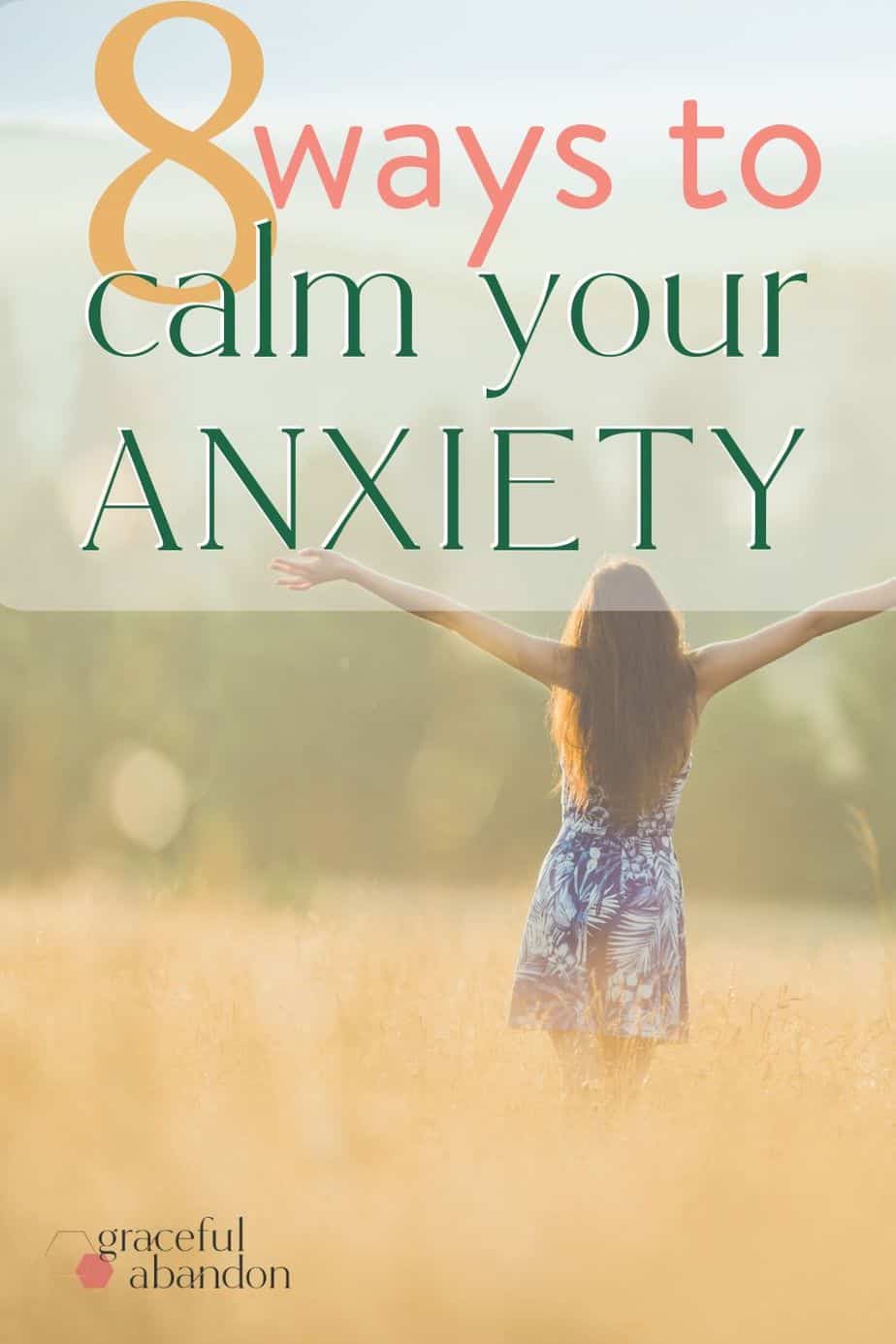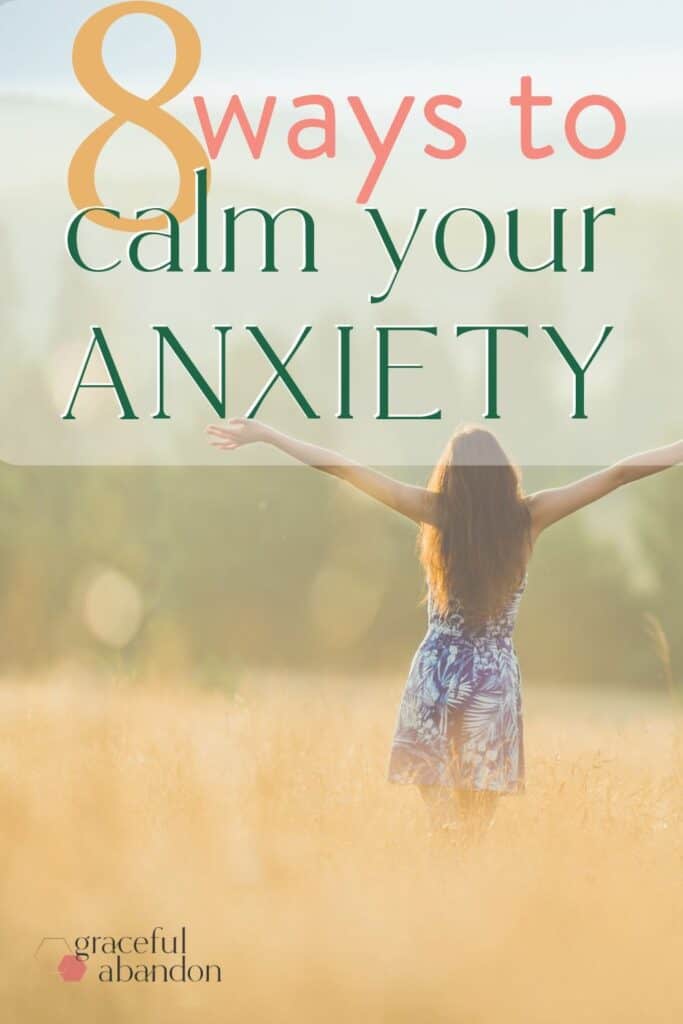 This post originally appeared on Faith It Like A Boss and has been updated by Lisa of Graceful Abandon and shared here with permission from Rosemarie Ramsingh-Blackaby.