Find Time to Pray Effectively: Use the ACTS model
We may earn money from the products/companies mentioned in this post. As an Amazon Associate I earn from qualifying purchases. For more information, read our Terms & Disclosures.
Have you ever despaired of how to find time to pray effectively? Honestly, as a busy mom it can be hard, and it's something that's so important. Especially as we disciple our children.
I've been enjoying talking about Family Discipleship with you, and this week we have a guest post by my friend Cindy that fits right in. Cindy is shares a simple 15-minute prayer template that is great for individual quiet time or family worship.
Part of our family vision is a united prayer time, and this is a simple way to teach our children to find time to pray effectively. I hope you are as blessed and encouraged by this as I was!
How Do You Find Time to Pray Effectively?
The ACTS Prayer Model is the answer to the following questions. Are you short on time? Do you feel rushed throughout your day? Does it feel like your day is out of control? Learning to pray using this model will bless you and bless your day.
This post will guide you through the steps in drawing close to God so you can settle your heart, hear from Him, and experience His peace. Simply follow the ACTS Model to find time to pray effectively each day.
What Does ACTS stand for?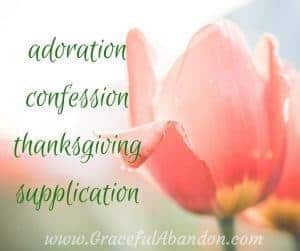 Often we think we need to spend hours with God. Sometimes we have that privilege while other times we are not able to devote that much time. Sounds sad, I know, but let's be honest: We lead busy lives.
It is for that very reason that we MUST carve out time to spend with the Father and Son. We need it like we need air to breathe. We will dry up spiritually if we don't prioritize our relationship with Him. It is still possible to find time to pray effectively.
It's not a multitude of prayers or a long time spent in prayer that is required. Shorter prayer times can be more effective when they are based on His will and not our own.
Petitioning God with our requests can be more God-focused than self-focused when we begin our prayer with "Thy will be done". This shifts our thinking from 'self' to 'God' and allows God to answer prayers according to His will not our will.
A: Adoration
As you quiet your spirit, focus your attention on God. Begin to worship Him for Who He is. Tell Him how much you love Him: tell Him how majestic He is, that there is none like Him.
Let your words flow from the depths of your heart as you simply praise and worship Him. We are told to pray in the spirit and with the understanding. If you have a prayer language from Him, then slip into that language as you worship Him.
Stay in this mode until you are ready to move to the next step in the ACTS model.
"Blessed be the Lord God, the God of Israel, Who alone works wonders. 19 And blessed be His glorious name forever; And may the whole earth be filled with His glory. Amen, and Amen."     Psalm 72: 18-19, NASB
"Bless the Lord, O my soul. O Lord my God, thou art very great; thou art clothed with honour and majesty."    Psalm 104:1, KJV
C: Confession
We all have sinned and fall short of the glory of God (Romans 3:23), so any unconfessed sin should be confessed and forgiveness received. I love this part because once I confess my sin to God, I know that I know that He is able and just to forgive me of my sin (1 John 1:9).
Because I know this, I can accept His forgiveness and move forward with thanksgiving in my heart. Repentance should always lead to thanksgiving, wouldn't you agree?
I know that I know that He forgives me when I repent of my sin!
T: Thanksgiving
"Oh give thanks to the Lord, call upon His name; Make known His deeds among the peoples.
 Sing to Him, sing praises to Him; Speak of all His wonders. Glory in His holy name; Let the heart of those who seek the Lord be glad. Seek the Lord and His strength; Seek His face continually. Remember His wonders which He has done, His marvels and the judgments uttered by His mouth"   Psalm 105:1-5, NASB
It is easy to give thanks to God when we remember all the good things He has done for us. So while you are in an attitude of thanksgiving, remind Him of the good things He has done for you and name them back to Him.
Remember the 10 lepers that Jesus healed, how only one of them returned to give thanks? It pleases the Father when we are thankful for what He has done and for Who He is.
"O come, let us sing unto the Lord: let us make a joyful noise to the rock of our salvation. 2 Let us come before his presence with thanksgiving, and make a joyful noise unto him with psalms."     Psalm 95:1-2, KJV
S: Supplications and Requests
Jesus taught us that we "have not because we ask not."  Paul taught the Philippian believers to "be anxious for nothing, but in everything by prayer and supplication with thanksgiving let your requests be made known to God." Philippians 4:6, NASB.
Based on Scripture and with the desire of having God's will in our lives, we can petition God with our requests and He will answer. You may not have your answer today or tomorrow or even next week, but He will answer you when it is the perfect time to answer. Don't lose heart as you wait but remember that His timing is never late.
When God says He will do something, He will do it.
…for the Lord hath spoken it… Joel 3:8, KJV
Begin your requests in the Name of Jesus. That will help keep you focused on praying according to His will and not your will.
We often pray wanting answers done a certain way and in a certain time frame. We tie God's hands in providing the answers according to our will when He desires to answer our request His way which is so much better than our way. We have finite minds and cannot possibly see the best solution for us when God can.
So, let God be God as He answers your prayers His way and in His timing.
If you're ready to dive even deeper into prayer, take a peek at this Prayer Challenge.
There's a 5-day deep dive into prayer available (free) to members of the Graceful Abandon community. If you want to learn more, click below:
Cindy Barnes encourages Christian women at 215 Ministry with the aim of sharing the Word of God through faith posts, testimonies and Bible Studies. Cindy's favourite Bible Study method is the Inductive Method as it allows you to dig deep in the Word as you search for the answers yourself. This method has been very rewarding for her as she states she "has grown more in the past 10 years studying this way than she did in the first 26 years as a Christian!"
SaveSave