The Best Gifts For The Christian Man In Your Life
We may earn money from the products/companies mentioned in this post. As an Amazon Associate I earn from qualifying purchases. For more information, read our Terms & Disclosures.
Looking for the best gifts for the Christian man in your life? Whether you're looking for the perfect Christian gift for Father's Day, his birthday, Christmas, an anniversary, or just because, here are gift ideas for the strong man of faith in your life. This list of Christian gifts for men is what you need to find something that is "just right."
He works hard, plays hard, loves well, and makes you smile. You want to give him the perfect gift, not just something that will end up tossed on a shelf and gathering dust.
You want something that tells you love him, believe in him, and respect the Christian man that he is.
Sounds hard, doesn't it? How do you say all that with a gift? Well, the gift is a great place to start and the note that goes with it will tell him even more.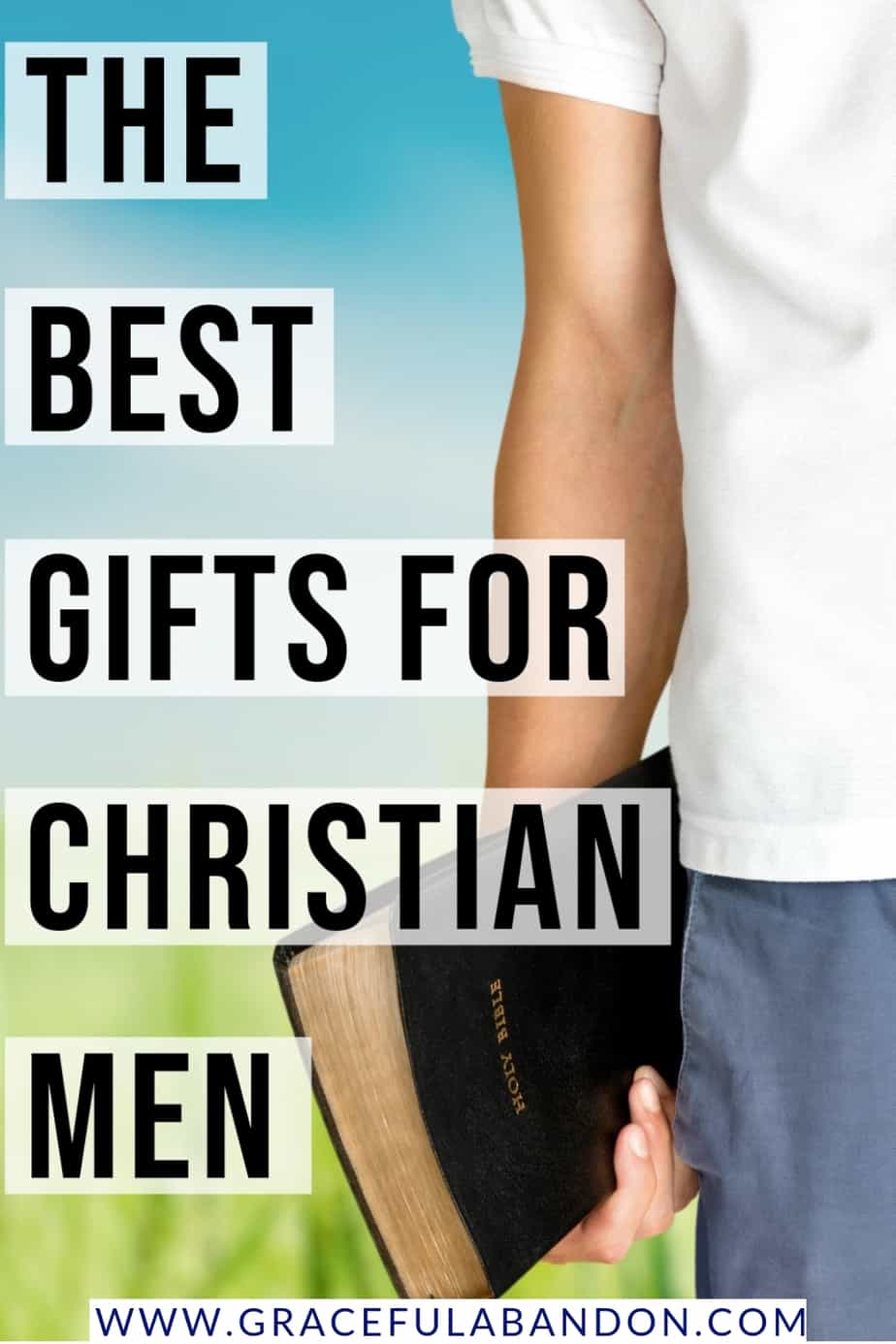 Finding The Best Gifts For The Christian Man In Your Life
Whether you are looking for the perfect gift to enhance his faith walk, a good book for him to read, something to spruce up his vehicle, or a practical gift he can put to use, finding the best gift for the Christian man in your life can be challenging…but it's so rewarding when you get it just right!
Here are gift ideas for Christian men that will enhance their spiritual life, their vehicle, their fatherhood, or their fun.
Faith Deepening Christian Gifts For Men
Every God-fearing man who loves Jesus has his own preferences for Bible study, worship, and so on. Check out these awesome Christian gift ideas for mean and see which one he would like best.
A leather bound study Bible is a gift that will truly last a lifetime. If his is old and worn out or he's looking for better study notes to enhance his time in the Word, this is a great gift for the Christian man in your life.
And, of course, a journal to jot thoughts, prayers, study notes, and more down in.

This is the perfect match for his Bible during study time.
This is a unique twist on a classic gift. What man wouldn't love these smooth, hand crafted, wooden pens to take notes with?
DEVOTIONAL BOOK
Does he like to read a devotional along with his Bible in the morning, evening, or when he's on the go? Consider one of these tremendous devotionals that will challenge and inspire his faith.

Practical (yet fun!) Christian Gifts For Men
Here are some ideas for things he can use in his car, wear, or enjoy in every day life that will point him to God and remind him that he's special to you.
GIFT IDEAS FOR CHRISTIAN MEN THEY CAN WEAR
CHRISTIAN GIFTS FOR MEN ON THE GO
…or any other special nook to curl up in for some down time in God's beautiful creation. He deserves to rest.
The Very Best Gift For The Man You Love
Whether you're giving a gift to your husband, son, father, uncle, friend, or teacher, there's one gift that will stand out above the rest: your gratitude.
Be sure to include a little note or heartfelt appreciation with your gift for him, because that will reach her heart in a way that even the years can't erase.