How I Met My Godly Husband Through Online Dating & An eHarmony Review
We may earn money from the products/companies mentioned in this post. As an Amazon Associate I earn from qualifying purchases. For more information, read our Terms & Disclosures.
This guest post by Rosemarie Ramsingh-Blackaby shares how a single Christian woman met her husband through online dating with eHarmony. Her story is inspiring and her insight is valuable; if you're a Christian woman in search of advice regarding online dating, this honest Christian review of eHarmony dating site may benefit you.
I met my husband in college, before online dating was a "thing." We started out as best friends and would up at the altar. Nearly two decades later, we're still best friends and live the life we dreamed about as crazy kids back in college.
Because of this, I've never talked much about dating and certainly not online dating here at Graceful Abandon. However, Rosemarie did a small series of posts on the topic and has graciously allowed them to be shared here, for those that might find them encouraging and beneficial.
Without further ado, here's her honest Christian review of eHarmony…and the story of how a Jesus-loving, God-following Christian woman became a pastor's wife.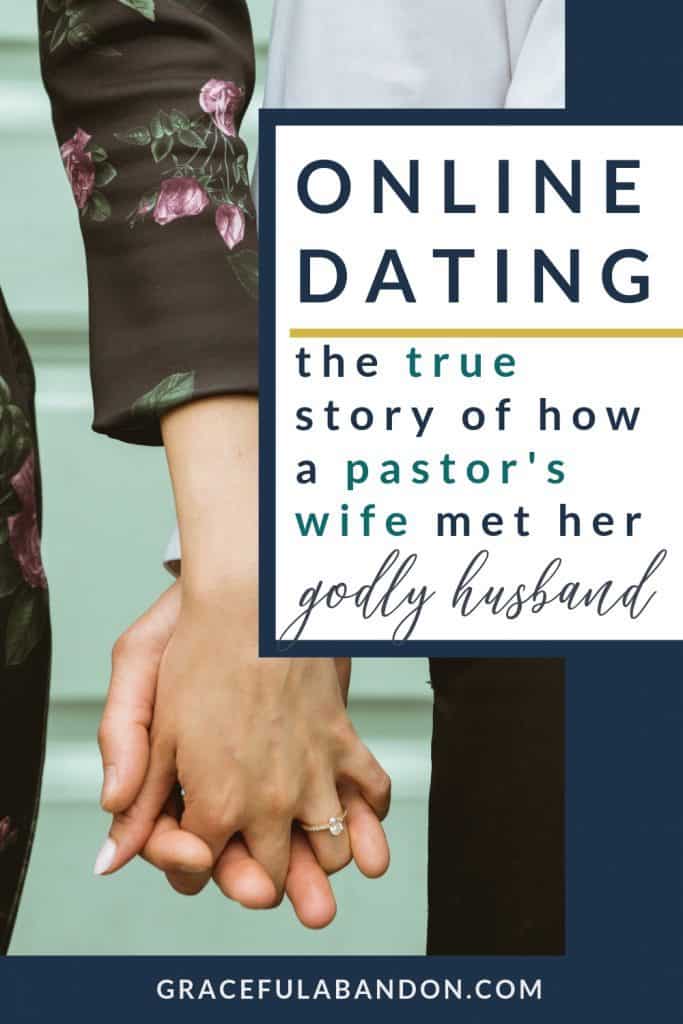 Online Dating Statistics
Currently, in Canada, 36% of Canadians use online dating. In the United States (U.S.), 40% are currently using online dating. In both Canada and the U.S., 20% of those in current, committed relationships began dating online and 7% of all married couples were those who met online.
Meeting through a friend is still the most common way people meet their spouse (63%) but it is becoming more common for people to find their spouses through online dating.
My Prior Experience with another Online Dating Platform
Many online dating apps are set up like online shopping carts. You put in a list of what you are looking for and a bunch of pictures shows up.
I tried another very popular online dating app before eHarmony. And I had a disappointing experience with the other dating app.
On my dating profile on that other app, I was very specific that I was a believer and I only wanted to date men who were devoted believers. Yet, less than 3 days later my inbox was flooded with atheistic or agnostic men.
I was swamped with over 4,000 men contacting me. None of them had even bothered to read my profile and none of them knew anything about Jesus. They just liked my picture and tried to contact me. My picture was just a headshot; it was not trying to allure seductively in any way.
It was discouraging, to say the least, so I closed that account immediately.
A Christian Review Of eHarmony: Why It's Different
But eHarmony was different. eHarmony puts you through a very rigorous process of personality testing that identifies your deeply held values, beliefs, and preferences.
You can specify your wants in the partner you are looking for in the areas of education, finances, height, physical activity level, geographic location, faith (including depth of faith) and many other dimensions.
If your objective is marriage, you can easily weed out people just looking for casual dating.
The whole process took me a good 3 hours to work through. I learned a lot about myself and what I valued most in a dating partner through the process.
There are no shopping cart analogies on eharmony. You will only be sent matches that eharmony thinks mesh well with you based on all the testing you did above. You cannot just browse their whole site based on pictures. This is an important difference with many other online dating sites.
My Experience With Online Dating As A Christian On eHarmony
In Sept of 2013, a valued friend encouraged me to begin dating again. I was thinking, at 43, where on earth will I find a well-adjusted Christian dating partner?
Most of the men I had dated prior were referred through friends, church or work, and those were not good experiences. My friend told me to try eharmony. He said many of his professional clients had found and married their Christian spouses there.
So I tried it.
At the beginning of October 2013, I signed up with eharmony. I filled out the questionnaires which delved into every dimension of my personality, preferences, beliefs, and values. The process helped me to know myself better.
A few days later, I saw in my inbox the picks that eharmony thought I would mesh well with based on all the testing I had done. All the guys they sent me were quality people. I liked the fact I only got about five matches a week.
I could take my time and dive into their profiles and study how they responded to my initial questions. These men were very well matched to me, all of them would be people I would be friends with offline.
Our Dating in Real Life
One guy stood out for his caring, empathy, and sense of humour. He also wrote very compellingly about his life with Christ, which drew me in.
He was in Toronto and I was in Ottawa (about 5 hours drive). That year, I was travelling back and forth for work and had to be in Toronto for connecting flights every other week.
This allowed me to see him each time I travelled through Toronto. He lived near the airport so since I chose connections with long layovers in Toronto. This way we had regular dates in Toronto. In between my trips to Toronto, he drove up to Ottawa so we were averaging seeing each other at least 3-4 times a month.
We were in constant contact over email and phone as well. Time slipped away because we had so much in common. While we could talk and laugh for hours, it was easy for us to also speak about deep and spiritual things.
Over the next few months, we fell in love. I felt affirmed, safe, protected and happy with him. This was a first for me to have those type of sustained feelings in a dating relationship. It was a very different type of relationship to any I had ever had.
Engagement, Marriage and Happily Ever After
Our first date was November 30, 2013, at the Museum of History in Gatineau, Quebec (right across the river in Ottawa area). We met beside the totem poles in that building.
In July 2014 we were engaged outside of that museum.
We also married in that museum (it is a beautiful building!) in July of 2015.
It has been pure bliss to have such a stable, loving spouse who is also the spiritual leader of our house (praying for me often and with me every day). He also has love and concern for my parents, both of whom have health challenges. He often goes out of his way to help them.
Don't rule out online dating, especially on eHarmony, as a way to meet a Godly spouse. And here's a checklist to help you know if that godly guy you've been dating is really a keeper.
A Note To Christian Singles Contemplating Online Dating
A few months before I went on eharmony a good friend recommended a book about the purpose of marriage for Christians…and today I'm going to recommend it to you.
It helped me to be clear about what I was looking for in a Godly spouse and purified my motives for marrying.
The book is called Sacred Search by Gary Thomas. I recommend it to any Christian single interested in having the marriage God intends for him or her. It will challenge you to think differently about marriage.
It's important to understand your own heart and be ready before you try online dating. If you're not sure if you are, check out these questions every Christian single needs to ask before dating.
Have you tried online dating as a believer? What was your experience? Please leave a comment to let me know!
Based on personal experience, I would say eHarmony is a wonderful way for Christian believers to meet other believers with whom they have much in common.
The eHarmony online dating app tries to mesh you with someone who fits well with your personality, values, and beliefs. You can easily weed out people not interested in a dating relationship that leads to marriage. In my opinion, this is the best dating app for Christian singles.
With Love,
Rosemarie
This post originally appeared on Faith It Like A Boss and has been updated and shared here with permission from Rosemarie Ramsingh-Blackaby.