When Should You Teach Your Children To Pray?
We may earn money from the products/companies mentioned in this post. As an Amazon Associate I earn from qualifying purchases. For more information, read our Terms & Disclosures.
As parents, we are responsible for discipling our children. Part of that is teaching children to pray. Childhood is an ideal time to teach them how to talk to their Heavenly Father.
Therefore whoever humbles himself as this little child is the greatest in the kingdom of heaven. (Matthew 18:4, NKJV)
The faith of a little child. It's simple, strong and pure. It's the kind of faith leads to powerful prayers!
Childhood is the best time to teach prayer and instill a habit of praying daily. It's in this season of life that children possess a natural ability to believe.
This comes often shines out of their sweet and simple prayers. Those prayers are full of faith that good things will happen and God will take care of everything!
Related: How To Disciple Your Children
Teaching Children to Pray By Example
There are so many methods you can utilizing when teaching children to pray, but the best one is by example.
Your child will develop a strong faith and begin to understand the power of prayer just by seeing you pray. Praying together as a family or praying with your child is invaluable to their spiritual growth.
Also, they notice what you do even when you don't do it with them. Being a woman of prayer in your daily life sets a precious example for them.
You can pray with your child in so many ways!
Did your child get hurt?
This is an easy time to pray for healing and for Jesus to help them feel better. We naturally comfort our children by holding them close and taking care of cuts and scrapes and all the little injuries that come along.
Why not add a prayer, too? In this way, they are comforted physically as well as spiritually. As their wounds heal, they see that prayers are answered in a simple way that is easy to understand and visible before their very eyes.
Is your child asking a difficult question?
Maybe even one of those questions for which you don't have the answer? Stop right there and say a prayer for wisdom. It's a valuable lesson for them to see that you don't know all the answers, but you are praying to the One who does!
Are your children fighting?
This one is a little tricky because you have to de-escalate the fighting first and then you often have to discipline along with that.
But is there a way to add some prayer in after things have calmed down? Every situation is different, but this might be a good time for teaching children about forgiveness which is an essential part of prayer.
If they have wronged another, they need to learn to ask forgiveness from Jesus and also from the one they hurt. We are always making our children apologize to people or siblings for things they have done, but we sometimes forget to gently lead them spiritually as well in asking forgiveness from Jesus during prayer.
These lessons in humility on a such a simple level will be a foundation for the more difficult inner issues they may face in later years. Teaching children to pray even when their feelings are hurt or they are upset is a lesson they will need as they grow.
Is your older child upset because of friendship or relationship issues?
This is such a powerful opportunity to teach them that the ultimate relationship is the one we have with Jesus and that their value and worth comes from God the Father above. It is the perfect opportunity for prayer to help heal their hurting hearts.
Pray with them, asking the Lord to be with them asking Him to help them understand their worth in His eyes.
We can pray with our children to help teach them about prayer, but our own prayer life can all be a huge teaching ministry in and of itself, even when we speak no words directly to the child about it.
Teaching Children To Pray With The Word
Do you read your Bible and pray in a place where your child can see what you are doing? Observation is powerful!
If you pray alone or in a separate room, is your child aware that you have a prayer room and do they know what you are doing when you are in there?
Just the knowledge that prayer is happening is a such a powerful lesson for a child! (Check out THIS POST if you want to read more about having a quiet time for you that blesses your children).
Have you directly taught your child about prayer? Teaching children to pray by using the Bible is also important.
The perfect place to show them an example of how we should pray is found in Matthew 6:9-13. This is the Lord's prayer, and in it we learn to ask for our needs, to ask for forgiveness, and to respect God.
These are all concepts even a very young child can understand with the proper type of explanation.
One of the most powerful things we can do for a child's spiritual development in their prayer life is to teach them to pray the Bible.
Praying Scriptures is so very powerful.
Praying Scriptures helps us understand God's character. What a better time to teach this than when they are young?
That knowledge about who God is and what He can do will last a lifetime. Even when a child may be away from God in later years, those things that have been impressed on their minds in childhood can come back to them at just the right time.
That's the power of God's Word! It never returns void (Isaiah 55:11). Training during the early years while you have so much influence in your child's life is imperative.
You can teach your child to pray Scriptures by giving them Bible verses on cards or by listing them on paper. They can choose one verse to repeat back to God to claim for their lives. They can also repeat the verse as a prayer.
Even very young children can do this if they repeat what the parent says!
Praying verses consistently will not only help a child learn to pray, but it will also lead to memorization as well. This interaction and repetition will ingrain truths in their minds that will benefit them for a lifetime.
If you want to learn more about teaching your children to pray using the Lord's Prayer, CLICK HERE. There's also a free printable for you to use during your times of family discipleship.
These are just a few of the real-life situations that will cross your daily paths and lead to a vast amount of opportunities to pray with your children, teaching them by example.
What have you found helpful in your family when it comes to teaching children to pray? We'd love to hear your experiences and thoughts about teaching your children to pray in the comments section below!
Related: 7 Ways to Engage Your Children In Studying The Bible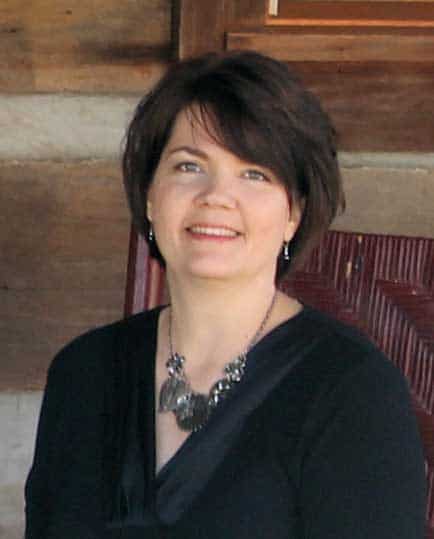 Leslie is a wife, mother of two, writer, teacher and friend. Currently, she spends her days home educating, reading, writing, and being a full time household manager.
Drop by and visit her at her blog, www.journeytoimperfect.com, where she'd love for you to join her in conversations about faith, prayer, and letting go of perfect.