What Does God Want From Us? (BTTB 42)
We may earn money from the products/companies mentioned in this post. As an Amazon Associate I earn from qualifying purchases. For more information, read our Terms & Disclosures.
Have you ever sat and wondered why the God who created everything cares about us? Perhaps pondered why He even created us? What does God want from us? 
We know from that God created us to have relationship with us. He equips us with free will so that we can choose whether or not we want to have that with Him. But what is He looking for in that relationship?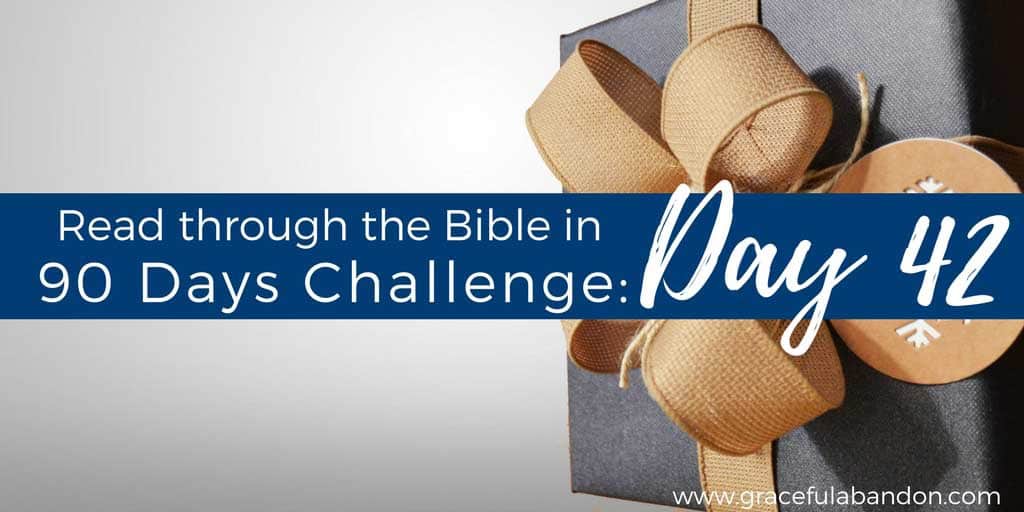 What does God want from us?
According to Psalm 50, it's simple. I love the rich expression in this Psalm and they way we can grasp God's power from the words here (go read it…I'll wait!).
God owns the earth and all within it is His. He says He has no need to ask us to provision or help. But He does ask for one thing.
Make thankfulness your sacrifice to God,
    and keep the vows you made to the Most High. (Ps 50:14, NLT)
God wants our thanksgiving. And God wants us to keep our vows.
Related: The One Question We Ask Each Night & How It Has Changed Our Family
Giving God Gratitude
Let's look at what the Bible says about this in other places:
Oh give thanks to the LORD; call upon his name; make known his deeds among the peoples! (1 Chron 16:8)
I will give to the LORD the thanks due to his righteousness, and I will sing praise to the name of the LORD, the Most High. (Ps 7:17)
The one who offers thanksgiving as his sacrifice glorifies me; to one who orders his way rightly I will show the salvation of God! (Ps 50:23)
For the LORD comforts Zion; he comforts all her waste places and makes her wilderness like Eden, her desert like the garden of the LORD; joy and gladness will be found in her, thanksgiving and the voice of song. (Is 51:3)
For it is all for your sake, so that as grace extends to more and more people it may increase thanksgiving, to the glory of God. (2 Cor 4:15)
Giving thanks always and for everything to God the Father in the name of our Lord Jesus Christ, (Eph 5:20)
Continue steadfastly in prayer, being watchful in it with thanksgiving. (Col 4:2)
Give thanks in all circumstances; for this is the will of God in Christ Jesus for you. (1 Thess 5:18)
And there are so many more verses I could share with you. In fact, studying gratitude is a bit of a hobby of mine and I would suggest that if you are ever at a loss for what to read in the Bible, a word study on thankfulness is an awesome thing to do.
Related Post: Complaining Hurts People & What To Do Instead
How is thankfulness a sacrifice?
Isn't it interesting that the psalmist refers to thanksgiving as our sacrifice? How can that be?
Well, think about Job. He praised God even when his life was falling apart. That's a sacrifice to be sure. To read more about Job and what we can learn from him, check out "6 Lessons We Need To Learn From the Life of Job."
Now think about your own life. Are there situations where it's hard for you to be thankful? I know I've got them. And some of them are huge deals, so I'm actively praying and asking God to show me how to be thankful for them.
But for now, let's look at a few simple day to day ways to be thankful.
My kids are up before the sun and I'm tired.
I'm thankful that I'm waking up to mercies that are new every morning. My children are here and I get to be their mom.
Dinner is rice and beans (or insert your own frugal go-to meal). Again.
I'm so thankful we have food that is healthy and nourishing. 

My husband works all the time.
Thank you, Lord, that my husband has a job and a great work ethic. Thank you that he provides for us.

My house is a mess.
I'm thankful I have a home and items to fill it and people within it to cause this mess. My home is full, but so is my heart.

I'm exhausted from burning the candle at both ends.
Thank you for mornings and evenings and everything in between. Thank you for a family to care for, a life that is full, and the life's breath to enjoy it.

So what does God want? He wants your heart to praise Him even when it's hard. That's what keeps you focused on His goodness.
Thankfulness isn't always our default. It can be hard when we are soul-weary.
Related: Truth Every Weary Mom Needs To Read
Pray for God to cultivate gratitude into your mind and heart. Ask Him to lead you to it and find ways to make it more a part of your life.
I actually work gratitude into my evening routine (read about establishing a simple yet crucial evening routine HERE) and I urge you to end each night thanking God for what He has done for you. It's a sweet way to drift off to sleep and makes waking up even sweeter.
Unless noted otherwise, all Scriptures are quoted in the ESV. Please see our Terms & Disclosures.
SaveSave