The High Cost of Doubting God
We may earn money from the products/companies mentioned in this post. As an Amazon Associate I earn from qualifying purchases. For more information, read our Terms & Disclosures.
The high cost of doubting God is undeniable if you read through your Bible. And the high rewards of faith are just as undeniable.
In Mark, you read of a man who is begging Jesus to do a miracle "if" He can. Jesus corrects that thought process and tells him anything possible if he would believe. And the man's response? Beautiful.
"Lord, I believe. Help me not to doubt!" (Mark 9:24)
Related: Praying For God's Grace No Matter Where You Are
If God can
How many times have you prayed, "Lord, if you can just help me" or "God, if you could only heal…"?
But that really isn't the issue, is it?
God IS able. In fact, He is more than able to do exceedingly more than we could ever ask or think (Ephesians 3:20).
So why do we pray that way? Well, it's because we know the boundaries of our own limitations and it can be hard to wrap our human minds around an infinite God's power and authority.
And sometimes it's easier to pray "if You can" than "if You will." Sometimes it's not a matter of doubting God's ability so much as His plan.
Related: Your God Hears You
If God Will
Sometimes the question that you are really praying is "Will You do this, Lord?"
It can be hard to approach God, not knowing if He wants to answer you. But I'm going to tell you a secret: He does, as long as it's what is best for you. He loves you, sweet friend.
And He is the God who sees the end from the beginning. He knows what is best for you and what isn't. And His heart is for you.
Related: When Your Prayer Life Leaves You Wanting More
If You Believe
In Mark 9, Jesus responds to the man's request with a loving rebuke. He asks the man what he means and offers him hope: "Anything is possible if a person believes!" (Mark 9:23)
And that's when the man does three things: he proclaims his beliefs, asks for help, and confesses his sin. He recognizes he is doubting God and what needs to change.
Proclaims his belief
The man tells Jesus, "Lord, I believe!"
After all, he came all that way to ask Jesus for a miracle, didn't he?
Have you ever done that? Asked Jesus for a miracle, even while doubting it would happen? It's totally a paradox, but one I have sympathy for.
I know I've prayed for miraculous healings for those I love only to wonder if God would really do anything. It's not because I'm doubting God, per se…or is it? It appears, from Jesus' response, that it is.
Asks for help
And the man says, "Help."
After reading this passage years ago, I've changed how I pray. Now I tell God, "I know You are more than able, so please help me believe in Your promises with my whole heart."
Because the truth is, while my mind knows God can do anything, often my heart doesn't really believe that He will. And God is the only one who can help me with that. After all, you need supernatural help to believe in the supernatural!
Related: 5 Keys To A Life of Reckless Abandon
Confesses his sin
Oh, and the heart of it all. "Help me not to doubt."
What is he saying here?
God, help me to ask You for a miracle fully expecting You to deliver it.
Lord, let me boldly hold You to Your promises without wondering if You will let me down.
Jesus, thank You for all You did on this earth; bolster my faith to believe You are the same yesterday, today, and forever. 
What Does Doubting God Cost You?
Doubt costs you answers to prayer.
Jesus promised that anything is possible to the one who has belief. That doesn't mean you can do anything you want or get any desired result on a whim, but it does mean that when you pray according to His will that it will happen.
And this is the confidence that we have toward him, that if we ask anything according to his will he hears us. And if we know that he hears us in whatever we ask, we know that we have the requests that we have asked of him. (1 John 5:14-15, ESV)
If you ask me anything in my name, I will do it. (John 14:14, ESV)
If you abide in me, and my words abide in you, ask whatever you wish, and it will be done for you. (John 15:7, ESV)
And whatever you ask in prayer, you will receive, if you have faith. (Mark 11:24, ESV)
Doubt costs you wisdom
If any of you lacks wisdom, let him ask God, who gives generously to all without reproach, and it will be given him. But let him ask in faith, with no doubting, for the one who doubts is like a wave of the sea that is driven and tossed by the wind. (James 1:5-6)
Doubt costs you peace of mind
When you doubt God, you can't rest in His promises the same way you could if you totally trusted Him.
Praying for God to eliminate your doubt will not only enhance your prayer life and give you wisdom, but you will gain peace because you will be trusting your life more fully to the One who is able to keep you from falling.
Pray that you will Stop Doubting God
Seem simple? That's because it is. Let the cry of your heart be, "Lord, I believe. Help me not to doubt."
He'll answer. It's who He is.
Related: Having Confidence in God
This post is part of the Bible in 90 Days series.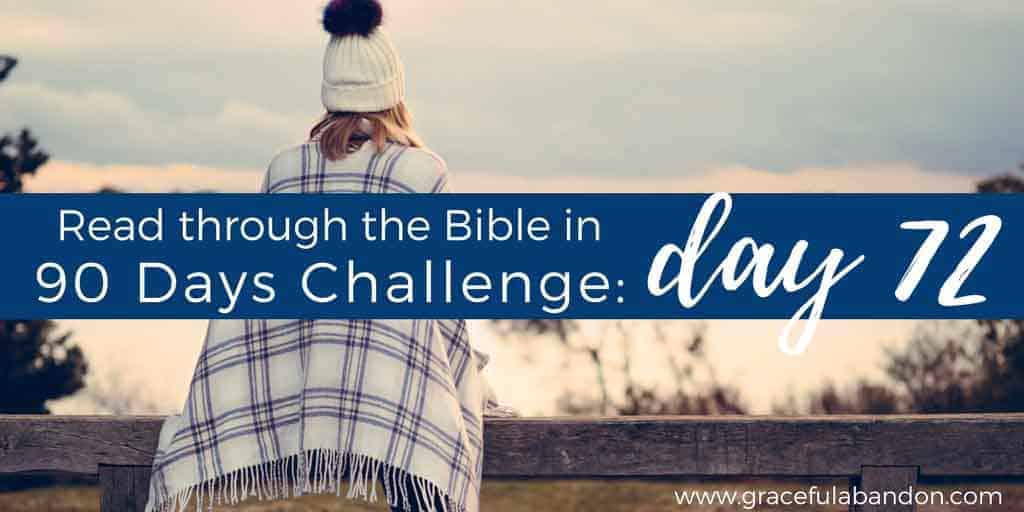 Be sure to PIN IT to share & come back to later:
SaveSaveSaveSave
SaveSave
SaveSave
SaveSave
SaveSave