The Best Blogs For Christian Wives
We may earn money from the products/companies mentioned in this post. As an Amazon Associate I earn from qualifying purchases. For more information, read our Terms & Disclosures.
Are you looking for Christian blogs for women to encourage you as a wife and to give you godly resources to strengthen your marriage? This list of the best Christian blogs for women who want strong Christian marriages is just what you've been looking for.
Being a good Christian wife can be hard. And finding time to do in-depth Bible studies and read books on strong Christian marriages isn't always realistic. So Christian blogs for women who want to build up their marriages and love their husbands well are a great resources.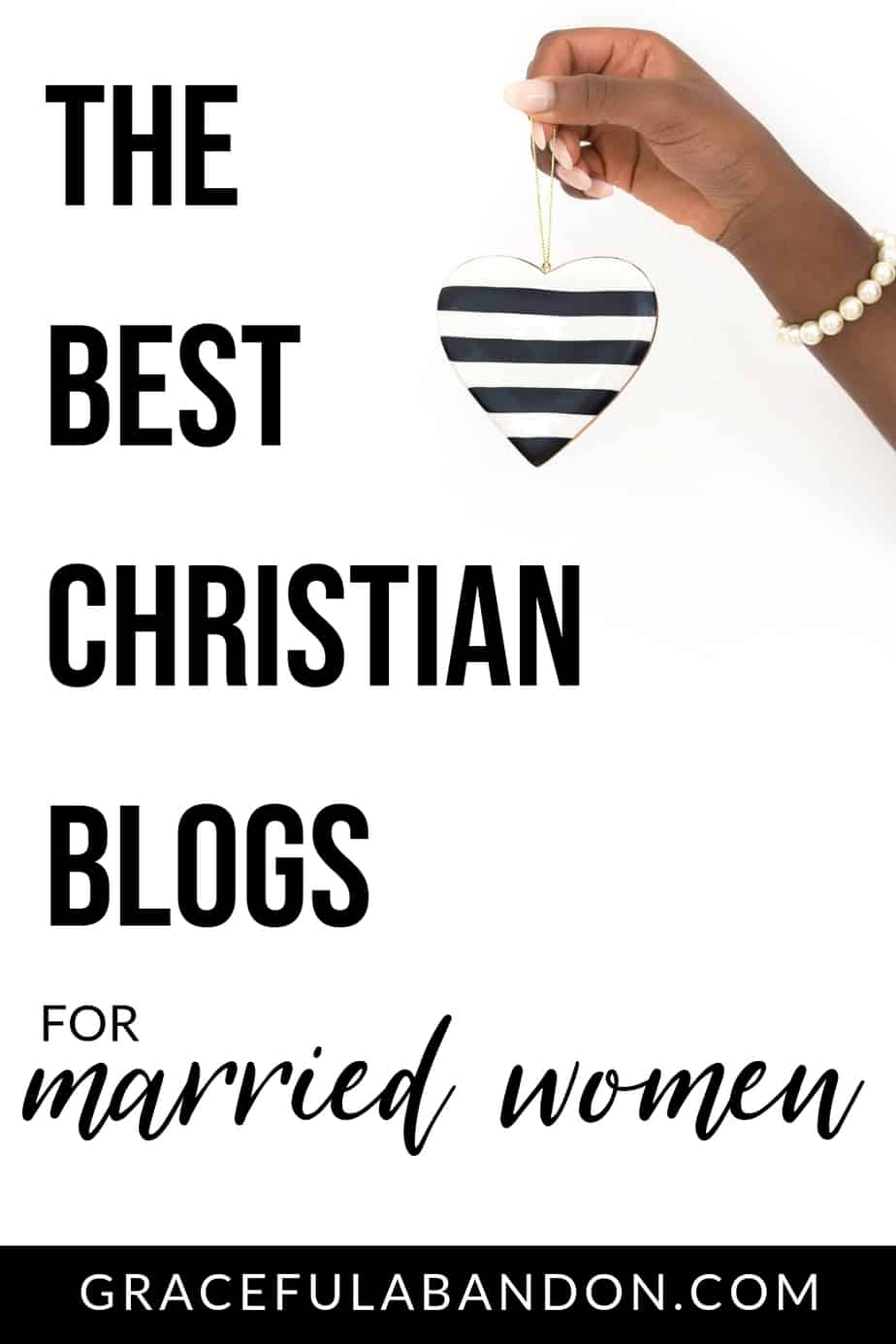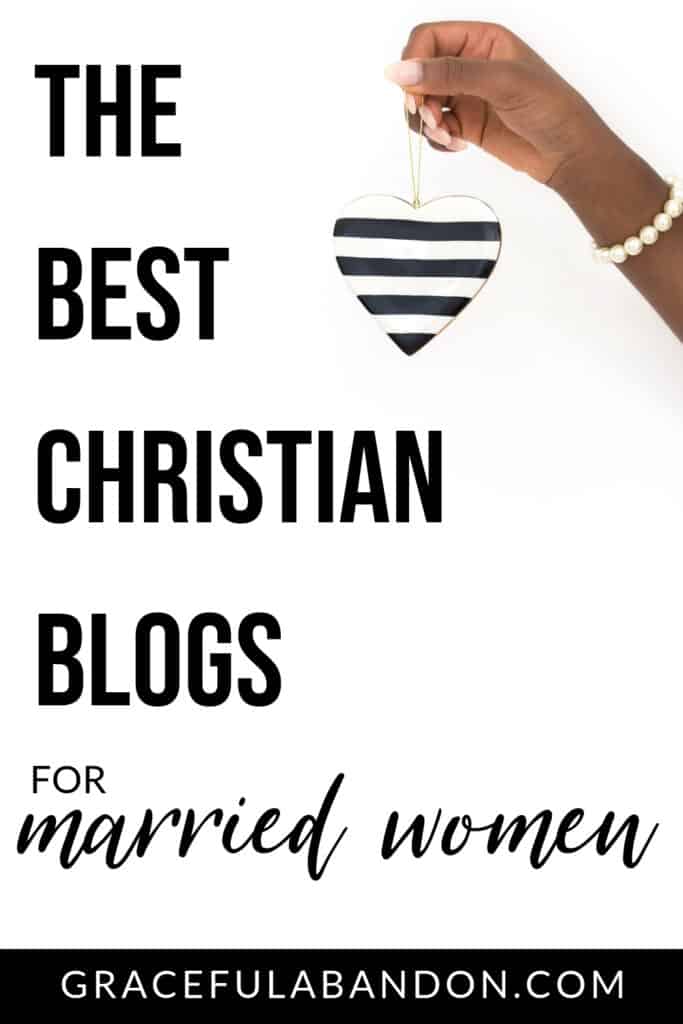 Good Christian blogs offer encouragement, resources, and practical advice in bite-sized, easily digestible articles.
The challenge, however, can be in finding them (well, finding the good ones, at least). Not all of them are Biblically sound, not all offer good advice, and some simply don't offer much value. You're a busy woman raising a family and you don't have time to weed through them all to find the best ones. I get it, my friend.
Marriage is a precious covenant between and a man and a woman made in front of God and should be cherished, nurtured, and honored as such. Because of this, there are a lot of resources here for you.
Graceful Abandon is a top Christian blog for women looking for Biblically sound marriage resources.
What can you find here?
Best Christian Blogs With Date Night Ideas
Christian Marriage Encouragement Blog Posts
Christian Intimacy Resources
More Christian Marriage Blogs For Women
But there's more out there, too! I'm sharing some of my personal favorite resources for encouragement, inspiration, and practical application to help you build your marriage on God's Word. These women whose blogs I'm sharing here offer sound insight and tell hard truths, but they will all be a blessing to you.

Time Warp Wife
Darlene's blog has been a favorite of mine for years. Since she first started it, actually. Time Warp Wife is all about encourage women to have Biblical marriage and study the Word of God. This has been one of my favorite and most suggested Christian blogs for women.
What can you find there?
Fulfilling Your Vows
Mike & Carlie Kercheval have dedicated much of their lives to creating Biblical, encouraging resources for Christian couples. And their stuff is all practically applicable, which I appreciate. Their site, Fulfilling Your Vows, is one of the best Christian blogs for women and men, both.
What can you find there?
Club 31 Women
If you've yet to check out Club 31 Women, you are in for a treat!
Lisa Jacobson, along with her husband, have written some fabulous books encouraging Christian marriages and they also both have blogs.
What can you find there? A lot. Some of my favorite posts are:
And don't forget her husband's site if your man is looking for a blog to check out.
To Love Honor & Vacuum
Sheila is the leading author and blogger when it comes to all thing Christian sex and marriage. You can check out her blog here.
Also, take a peek at her Boost Your Libido course. I recommend it a lot when women tell me they struggle with wanting a better sex life, or want it but just aren't "feeling" it…and then I get thank you notes for suggesting it. Take a peek.
Her book, The Good Girl's Guide To Great Sex, is also super popular.
Unveiled Wife
This is another leading blog for Christian women. Unveiled Wife offers unique, to the point, and Biblically sound advice for building a stronger Christian Marriage. She also hosts a fabulous podcast – totally worth checking out.
Jennifer Smith is an author of several books encouraging Christian women in godly marriages. Her blog is an extension of her books, and so beautifully shows her passion for strengthening Biblically based marriages.
What can you find there?
Equipping Godly Women
I've been a reader of Brittany Ann for some time and no list of Christian blogs for women is complete without her. Equipping Godly Women is a place to find hope, Biblical truth, and practical encouragement for your walk with God.
Brittany Ann offers great free resources as well as articles for Christian marriages.
Her books are excellent, but so are her blog posts. One of the best things about Brittany is that she's not afraid to tackle the hard topics for Christian women.
What can you find there?
Fierce Marriage
Fierce marriage isn't a traditional blog. It's more of a website resource, but it's chock full of awesomeness for both men and women and really needed to be included on this list of the best blogs for Christian women (and men) building strong marriages.
What can you find there?
Videos done by a husband and wife with a Biblical passion for marriage
Articles for men as well as articles for women
Devotions and other resources
The Best Christian Blogs For Women Who Want Strong Marriages
There are so many blogs to choose from, but these are my picks for the top Christian blogs for women who want to build Biblically sound, strong marriages.
Do you have a favorite marriage resource blog for Christian women? If so, drop a comment so we can all enjoy it!